106
« on: August 31, 2008, 04:28:57 PM »
The annual 50's party in Joisey had some nice cars. Almost all of the Mopars that were in my previous posts were in attendance. Here are the new Mopars I saw Saturday :
Check out the 5.7 Hemi in the Cuda!
There was a clone of George Barris' Kopper Kart...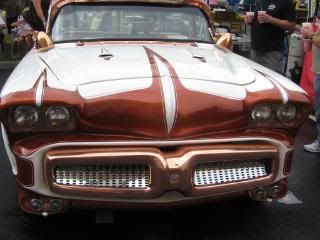 This was a cool sign on an Anglia Gasser:
Hey...I didn't know Steve went
.....he got too much sun I guess.....
and this little guy loved cruisin the lots!